Our Camp
Tanja Lagoon Camp is located on the edge of a wild coastal lagoon, surrounded by the spotted gum forests of Mimosa Rocks National Park on the Sapphire Coast of NSW. Featuring 4 luxury self-contained safari tents, 2 exquisite eco-cabins and a versatile meeting place for groups. We provide a beautiful place to immerse yourself in nature and thrive.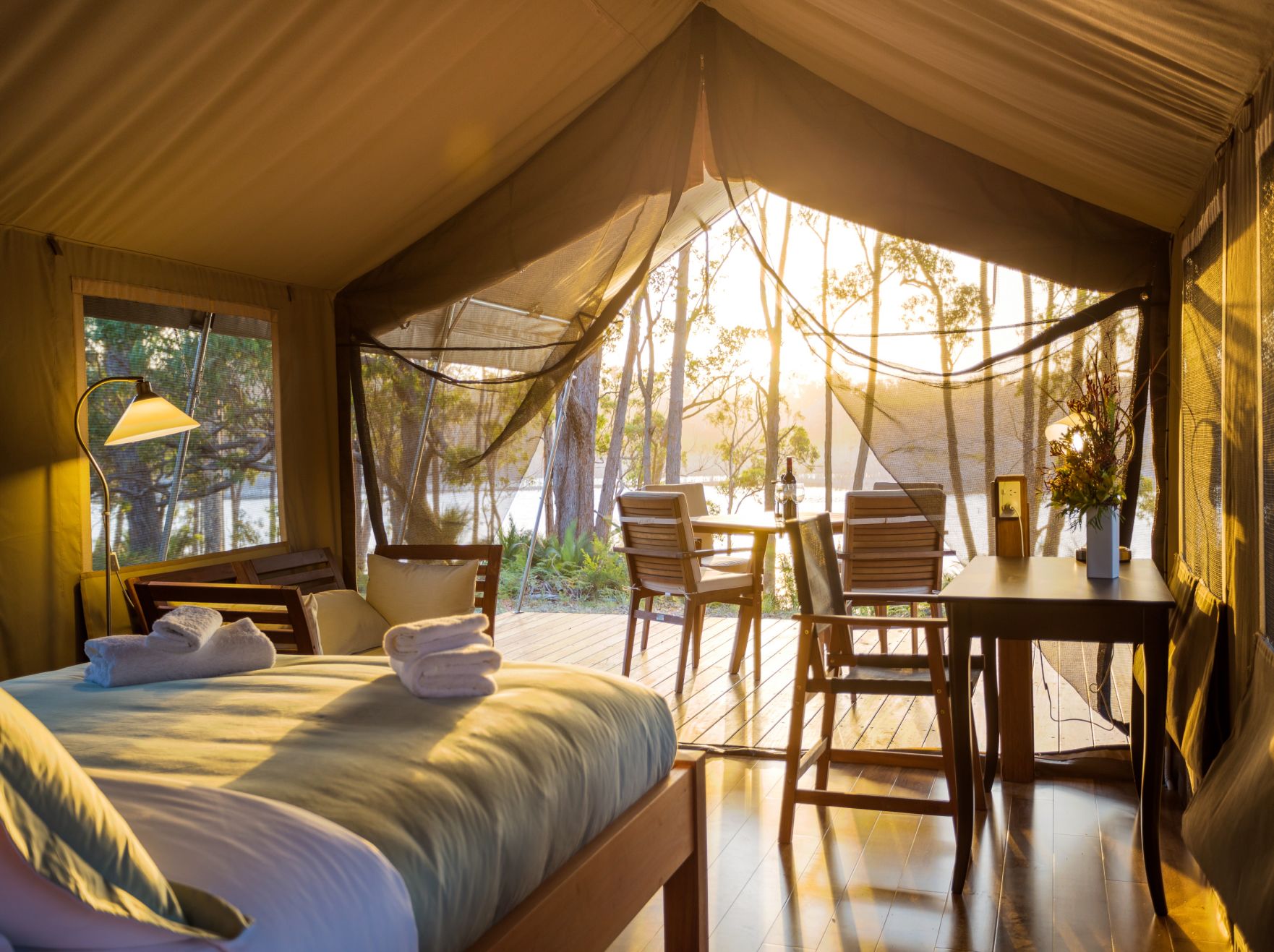 Sustainable
Live simply, tread lightly. Solar power, worm farm waste management, filtered rainwater, delicious local produce…
Accessible
Choose from two accessible accommodation options. Our luxury safari tent Buru or our exquisite Burrawang eco-cabin. 
Inclusive
At Tanja Lagoon Camp it is our personal priority to be inclusive. We welcome everyone regardless of race, ethnicity, gender or sexuality. 
Experiences
Immerse in nature. Sleep deeply, bushwalk, kayak, swim in the ocean, watch wildlife, star gaze, enjoy a campfire, explore local villages…
"A little slice of paradise - prefect to recharge and reconnect with nature"
What majical place! The bird symphony and the kangaroos and joeys on arrival are simply beautiful. Tanja Lagoon Camp is a special place with wonderful hosts. Sam and Loz are so lovely and definitely walk the talk with sustainability, and caring for the land and their community. We loved all the attention to detail with the locally sourced products (eggs, milk, bread, muesli and more). The accommodation was so comfortable and well planned. It was super cosy in our glamping tent with the the very efficient pellet heater!
 We loved exploring the local area on our e-bikes and also went for a walk to the beach on the well maintained track. It was so nice to be immersed in nature and recharge! I'd give 10 stars if I could!
Thanks so much guys.
Jo L Oct 2022 on Tripadvisor
"Unique and magical place"
Tanja Lagoon Camp is a truly unique and magical place. We stayed 4 nights and even though our last night was stormy we were snug inside our safari tent especially with the amazing wood pellet burner. Our visit was in Spring and we saw joeys in their mothers' pouches and learning to hop around our tent. We didn't know much about the immediate area so were so delighted to discover beautiful places including Bithry Inlet, Middle Beach and Araleun Nature Reserve. Loz and Sam are doing far more than running an eco camp – their commitment to sustainable living and caring custodianship of the land shines through every aspect of Tanja and it was an awe-inspiring visit for us."  
Susannah R Oct 2022 Trip Advisor

"Utopia"
Wow wow wow I googled glamping central coast and Tanjalagoon popped up. Looked fantastic so booked a 2 day stay for my daughter and I. To say we found paradise is an understatement. We booked into spoonbill with the freestanding bath absolute bliss. The attention to detail is just fantastic. Loz and sam have truly created the most amazing retreat. Truly appreciating Mother Nature. Bamboo cotton bed linen eco friendly mind blowing pellet heater down to the loo roll. Wood and pellets are provided there's also canoes to use. I am definitely returning on a regular basis. We left so refreshed and just truly appreciative of the utopia loz and sam have created. 
Carolyn W May 2022 Trip Advisor
"Prefect off-grid trip"
We had an awesome 3 night stay in one of the units which was clean, green and comfortable! The lagoon views and birdsong were mesmerising and from the unit we were able to go bush and beach walking, or take a canoe or kayak on the lagoon. The facilities and provisions were perfect and it was so good to get away from social media and TV (although wi-fi is available at the gathering place if needed).
The locality is gorgeous with plenty of wildlife including whales!
Would highly recommend at least a 3 night stay to make the most of this beautiful place!
Kathryn C August 2022 on Trip Advisor
"Most luxurious camping trip!"
We stayed 2 nights for my 50th birthday. We have been rough camping for years but thought we would do something a little nicer for my birthday and TLC did not disappoint.
The bed and bathroom were as good as any 5 star hotel and everything was immaculate. It was great to have an actual kitchen and the complimentary breakfast goods were delicious.
We didn't hear or see any other guests even though others were staying on either side of us.
We took the beautiful scenic walk to the beach, where we were the only ones.
We tried to think what could be done to improve this weekend away and couldn't think of anything.
Definitely recommend. 
Anne B April 2022 on Trip Advisor
"Glam on top"
When arrived at Tanja Camp, and found everything signposted and ready for our arrival. The tent site was immaculate, and opened to a pleasant filtered sun afternoon. We found the amenities provided with the kitchen and bathroom perfect for our needs. The outdoor fire was a treat to sit around before dark, and the interior fireplace was a great addition as the nights and mornings were a bit brisk. We took the time to canoe across the lagoon, and walk and explore Middle beach. The beach is a short 5 minute drive away as well. Wildlife was abundant. We were blessed with the weather; but you would still be comfortable if it was cold and wet. We only met the owners as we were packing up to leave, as their services were not required at all. It just felt like camping with a bit of glam on top!!
Anta S May 2022 on Trip Advisor
Tanja Lagoon Camp is located approximately halfway between Melbourne and Sydney, on the far south coast of New South Wales, Australia.
It is only a 3 hour drive from Canberra,  5-6 hours from Sydney or a 7-8 hour drive from Melbourne.
We acknowledge the Traditional Owners of Country throughout Australia and recognise their continuing custodianship of the land, waters and culture for over 60,000 years. We pay our respects to them and their elders past, present and emerging. We are privileged to learn from them in the way we care for and share this land.
Subscribe to the latest TLC offers and news